I'm really behind on my book reports, and not just because I've been consumi g mass amounts of teenage vampire porn. I've put away a lot of books, and I can't seem to get it together to review them. The more I fall behind the harder it is.  So I'll just jot down a few quick reviews.
I've continued to educate myself with a series of scientific books about important wildlife related issues
Stolzenburg explores the ecological impact of large predator extinction. The depressing fact is that when the top of the food chain is eliminated, populations of prey animals explode, leading to habitat destruction, epidemic disease and ecological chaos. From controlled experiments with starfish is tide pools, to isolated island environments, to unimposing but ecologically vital sea otters,  examples of this effect are abundant. It is disheartening to learn the vital importance of predators just as their numbers are plummeting faster than ever. There are a few rays of hope. The reintroduction of wolves to Yellowstone, and the subsequent benefits to the park is a particularly inspiring success story. Where the Wild Things Were is also outstanding because unlike most books penned by scientists it is written in witty and sparkling prose. Stolzenburg makes his point compellingly, dramatically and the book is as well written as any novel and impossible to put down.
Less sparkling but also educational.Crump's book is about animal behaviours that are particularly striking and exotic. There are the cannibal praying manti and spiders of the title, home improvement loving bower birds, marsupial frogs and other little understood creatures with unique strategies for survival. Ford, meanwhile, makes the case for sentient thought among animals, insects and even plants. He argues that just because we don't understand animal communication doesn't mean it's not there, and even if we don't see animal emotions doesn't mean they don't exist. He points to the complex communication of bees and ants, and the often surprising adaptability and intelligence of creatures great and small, that could only be a result of conscious thought and decision making.
And I haven't forgot the human animal.
Mary Roach is the author of Stiff, an in-depth look at death and the science and culture that surrounds it  In Bonk Roach explores the lighter side of sex research. In her usual hilarious style she covers familiar subjects like the eccentricities of Kinsey as well as lesser known sexual truth seekers like Marie Bonaparte. There are visits to sex-toy manufacturers, a world famous surgeon devoted to penile enhancement, and a very sexy MRI. All those statistics and fun facts that end up in Cosmopolitan? Somebody somewhere has done some serious research to bring them to light. Meet the people whose job it is to study things most of us wouldn't speak of in public.
Meanwhile, Susan Seligson purports to explore our massive cultural obsession with boobies. Breasts are, of course, fascinating and mysterious things. Why do humans have such huge udders when no other primates do? We don't know, and we don't even have any good theories. Seligson touches on several interesting aspects of breast culture including various means of enhancement, the enduring and mystifying popularity of titty models with names like Maxi Mounds (fun fact: Mounds is a lesbian). Much of it is fascinating, funny and a wee bit disturbing. The problem is that Seligson constantly inserts herself into the story. The chapter supposedly about Maxi Mounds and her ilk, for example, becomes a chapter about Seligson's adventures at a Vegas pole dancing convention. She's compensating for the fact that she never met Mounds, but personal anecdotes should not take the place of insight, and too often they do. Seligson's feelings about her own honkers don't help the reader understand the cultural significance of breasts. No, it's just navel (of boobie) gazing at the expense journalism.
I read two novels as well.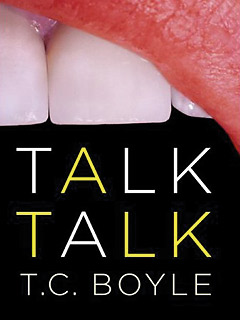 First there was Talk Talk by one of my favorite living authors, T.C. Boyle. I never miss a Boyle story in the New Yorker. Boyle has a knack for creating absurd situations and making them somehow totally believable, and making us understand characters who do ridiculous foolish things. In Talk Talk the story alternates between a young deaf woman whose identity is stolen, and the thief himself. The thief is, no surprise, an asshole, but I wound up rooting for him. The novel is very funny and fast paced, but doesn't have the human depth of my standing Boyle favorite The Inner Circle.
Most recently I read Jim Crace's The Pesthouse, a love story set in a distopian future very different from the ones we're used to. Actually, critics have compared The Pesthouse to Cormac McCarthy's The Road, but since I haven't read the latter I can't judge. For an more insight please refer to Joyce Carol Oates' review in the New Yorker (April 30 2007).
Besides all this I finished the Twilight series. Verdict: books 1 and 2 – suck. Book 3 – pretty good. Book 4 – awesome! I am currently exercising my brain muscle by revisiting Harry Potter – in Russian. (the ability to read Russian spontaneously came to me on a night of heavy drug use)