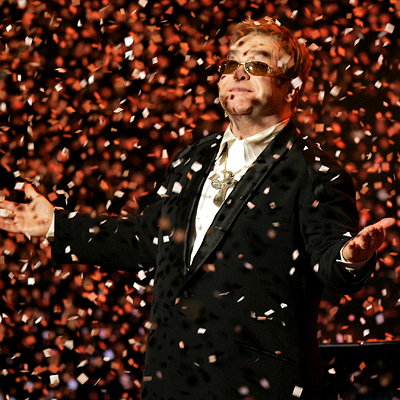 There's some inconsistency as to what the official title of this song really is. On the tracklisting it's "All the Girls Love Alice", but some books and sites put as 'All the Young Girls Love Alice'. I like the latter, so that's what I'm going with. The song is from Elton John's 73 mega-hit "Goodbye Yellow Brick Road".
It's a very bouncy, danceable tune, with strong piano from Elt. Meanwhile, the lyrical content is provocative and shocking. Alice is a 16 year old lesbian who hustles older women and comes to a bad end for it.
The full original version…
Here's a crappy incomplete live clip of the song, showing Sir Reggie in his finest feathers.
 All The Young Girls Love Alice :
Raised to be a lady by the golden rule
Alice was the spawn of a public school
With a double barrel name in the back of her brain
And a simple case of Mummy-doesn't-love-me blues

Reality it seems was just a dream
She couldn't get it on with the boys on the scene
But what do you expect from a chick who's just sixteen
And hey, hey, hey, you know what I mean

All the young girls love Alice
Tender young Alice they say
Come over and see me
Come over and please me
Alice it's my turn today

All the young girls love Alice
Tender young Alice they say
If I give you my number
Will you promise to call me
Wait till my husband's away

Poor little darling with a chip out of her heart
It's like acting in a movie when you got the wrong part
Getting your kicks in another girl's bed
And it was only last Tuesday they found you in the subway dead

And who could you call your friends down in Soho
One or two middle-aged dykes in a Go-Go
And what do you expect from a sixteen year old yo-yo
And hey, hey, hey, oh don't you know
As a bonus, here's a picture of myself dressed as Elton John for Halloween. I wanted to do a Bowie costume, but I'm just not thin enough to pull it off anymore. So I went with Elton, because he's chubby, he has terrible hair, and he doesn't care if his prints clash.