Today we hit the jackpot!
 We have here David Bowie's 'Absolute Beginners'. Now I need to explain that Bowie is absolutely my favorite person in the known universe and I think he might be god or at least an angel. So we're going to see a lot of him – at least once a week.
'Absolute Beginners' is the song David wrote for the 1986 movie he appeared in. The 80′s were not the greeatest decade for Bowie (or anyone of his generation, really), but it was not all bad. This video is aiming for a neo-noir style with the trench coat and the black'n'white. But the weird, big haired zebra lady kind of ruins that illusion. It's kind of schlocky, but I think it's a romantic song.  I confess I have not seen this movie. Bad fan, bad fan!!! I understand it's a neo-50s juvenile delinquency musical or something like that. I admit it sounds a little cheezy, but I will get to it eventually. Because I must support Bowie in all things and also because it marks the comeback of James Fox.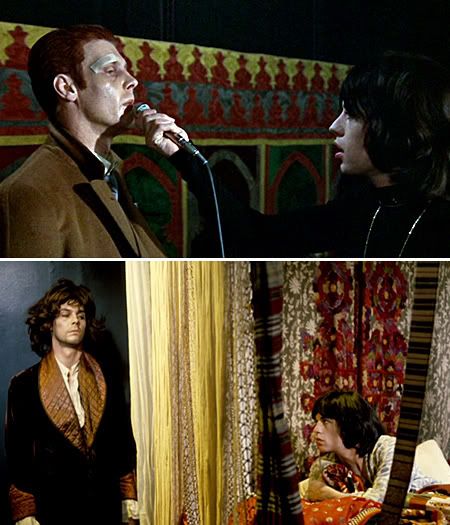 James Fox will always be Chas Devlin to me. If you know not of what I speak go see "Performance" the greatest movie of all time!!! Anyway, our Chas suffered a bit of a nervous breakdown in the seventies and 'Absolute Beginners' was one of his first big jobs after a long sabbatical. Fox is a fine actor and he's more familiar than you think. He can be seen in Tim Burton's "Charlie and the Chocolate Factory" as Vercua Salt's daddy. I love James!